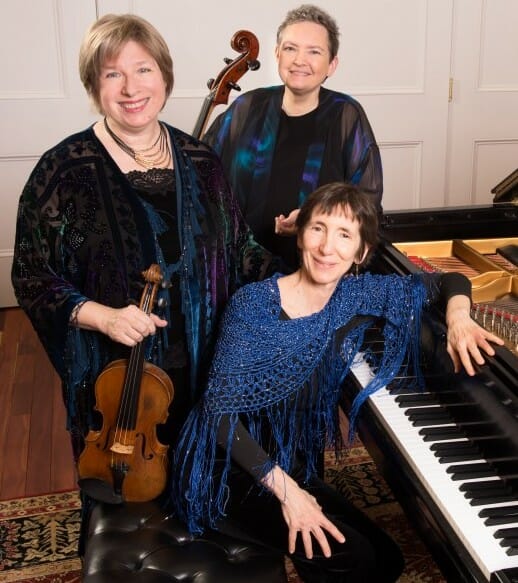 Voices of Hope
Benefit Concert for CWB
featuring
The Triple Helix Piano Trio:
Bayla Keyes, violin; Rhonda Rider, cello;
Lois Shapiro, piano
Michelle LaCourse, viola; Paul Glenn, bass
World Premiere by Francine Trester
Vocal quartet: Deborah Selig, Britt Brown,
Gregory Zavracky, Ryne Cherry
FUUSN Choir
Anne Watson Born, conductor
⋅
Franz Schubert, Piano Quintet in A Major, D.667 ("The Trout")
Triple Helix Piano Trio
with special guests Michelle LaCourse, viola; Paul Glenn, double bass
Francine Trester, Sekelela (Rejoice) (2018) World Premiere
based on the words of Zambian students and teachers who have benefited from the work of CWB
Triple Helix Piano Trio
Vocal quartet: Deborah Selig, Britt Brown, Gregory Zavracky, Ryne Cherry
First Unitarian Universalist Society in Newton Choir
Anne Watson Born, conductor
Robert Schumann, Piano Trio #2 in F Major, Op.80
Triple Helix Piano Trio
⋅
Ticket holders are invited to a pre-concert talk by the musicians at 3:15 pm.
Sunday, April 28, 4 pm
First Unitarian Universalist Society in Newton
1326 Washington Street
Newton, MA
Tickets: Adults $30, Students $15
All proceeds benefit Communities Without Borders, which supports education for orphans and vulnerable children in Zambia.
We thank the musicians who are donating their time and considerable talents, and we thank the church for donating its space.



Zambian Crafts and Student Photo Project at Concert
While you are at the concert, you can shop for Zambian crafts and visit the Student Photo Project display to see fabulous photos by Zambian students who had never before touched a camera! Please support the photo project by making a donation to CWB and choosing a framed image to take home.
---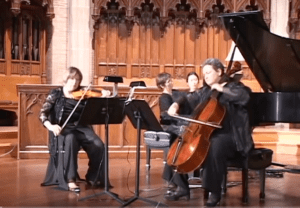 When the award-winning and internationally known Triple Helix Piano Trio musicians—violinist Bayla Keyes, cellist Rhonda Rider, and pianist Lois Shapiro—joined together in 1995, The Boston Globe described the results of their union as "the livest live music in town," with "wildly imaginative, emotionally charged, virtuoso playing" that was "sophisticated in musical detail, wholeheartedly interactive, uninhibited in emotion, and touched by a special grace." Subsequently, the ensemble has become known as one of the best piano trios on today's musical landscape. Read more.
---

Michelle LaCourse has appeared as soloist and chamber musician on four continents, and has released two highly acclaimed CDs of works (all world premiere recordings) for viola and piano. She was formerly a member of the Lehigh Quartet, the Delphic String Trio, and the Aeolian Trio, and has performed at numerous festivals such as Aspen, Bowdoin, Skaneateles, Musicorda, the Heifetz Institute, Campos do Jordão (Brazil), and Positano (Italy) and in major musical centers around the world. She currently teaches viola and chairs the String Department at Boston University's School of Music. Read more.
---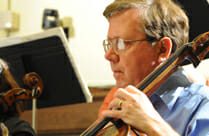 Paul Glenn concertizes on both double bass and cello. The former principal cellist of the Concord Orchestra, of the New England Philharmonic, and the former principal bassist of the Civic Symphony of Boston, Mr. Glenn currently plays with the Lexington Symphony and Wellesley Symphony.  He also performs frequently in solo and duo recitals, with Boston chamber groups, and in various amateur chamber music festivals.  A student of the eminent pedagogue George Neikrug, Paul earned his Bachelor's and Master's degrees in physics at Harvard.  Read more.
---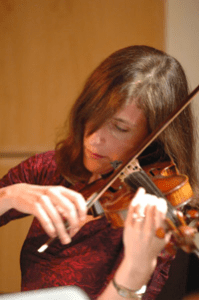 Francine Trester is Professor of Composition at Berklee College of Music. She has had commissions from the Mirror Visions Ensemble, Shelter Music Boston, Kenneth Radnofsky, Boston Landmarks Orchestra, Nahant Music Festival, the Scottish Clarinet Quartet, and the Rivers School Conservatory. She has been the recipient of a Tanglewood Fellowship and grants from the Massachusetts Cultural Council and Fromm Foundation. Trester holds doctoral and undergraduate degrees from Yale University and has been the recipient of a Fulbright in Composition. Read more.
---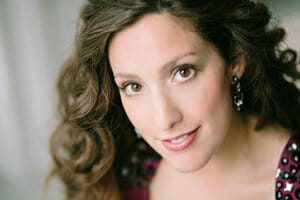 Soprano Deborah Selig's voice has been described as "radiant," "beautifully rich," "capable of any emotional nuance," and "impressively nimble." She performs repertoire spanning music from the baroque to contemporary in opera, oratorio and art song. She has degrees from University of Michigan and Cincinnati College-Conservatory of Music, and she serves on the voice faculties of Wellesley College, Brown University, and the summer Boston University Tanglewood Institute. Read more.
---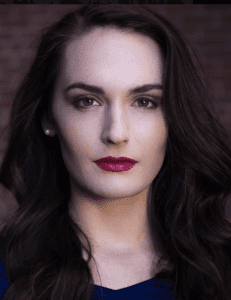 Boston-based mezzo-soprano Britt Brown has performed with Boston Midsummer Opera, Boston Opera Collaborative, MetroWest Opera, the Boston Lyric Opera, Odyssey Opera, Guerilla Opera and the Boston Pops. She premiered several pieces with Juventas New Music Ensemble. Britt is a graduate of Stetson University and the Boston Conservatory and continues to teach and perform locally as a sought-after new and sacred music singer. Read more.
---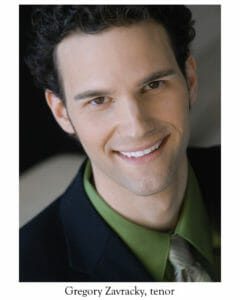 Praised for his fine musicality, "glowing intensity," and "clarion tone," Gregory Zavracky maintains an active performance schedule on concert and opera stages, including Boston Lyric Opera, American Repertory Theater, Chautauqua Opera, Opera Saratoga, Opera in the Heights, Rhode Island Philharmonic, Utah Symphony. His compositions include several song cycles, three operas, and a number of choral and chamber works. He has a DMA in voice performance from Boston University, and teaches at the University of Connecticut, Boston University Tanglewood Institute, and Brown University. Read more.
---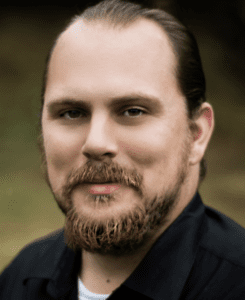 Baritone Ryne Cherry is an opera, oratorio, and ensemble singer based in Boston. He has premiered numerous new works. In the summer of 2017, Ryne enjoyed his second season as a vocal fellow at Tanglewood, the Boston Symphony Orchestra's summer home. "Baritone Ryne Cherry has a voice of real beauty and his velvety tone was well-suited for Pietro's legato passages." (Examiner.com) Read more.
---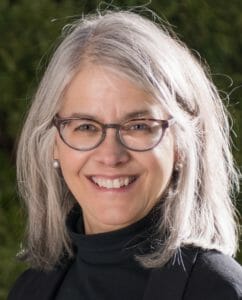 Anne Watson Born is the Music Director of the Nashoba Valley Chorale. She is also the Director of Music Ministry at the First Unitarian Universalist Society in Newton. She is the Board chair of the Music Leadership Certification Committee for the Unitarian Universalist Association. She has been a faculty member at Roxbury Community College and at Bristol Community College. Ms. Watson Born holds a M.M. degree from New England Conservatory. Read more.
---
SaveSaveSaveSaveSaveSave
SaveSaveSaveSave
SaveSaveSaveSave
SaveSaveSaveSaveSaveSave
SaveSave
SaveSaveSaveSaveSaveSaveSaveSave
SaveSaveSaveSaveSaveSave
SaveSaveSaveSaveSaveSave
SaveSave
SaveSaveSaveSaveSaveSave