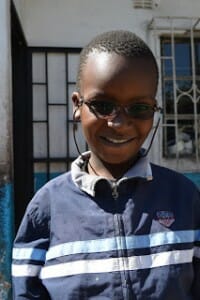 People say it's special to see the world through the eyes of a child.
Mwenya has been at Garden for the last three years. We were surprised to see him back again this year since his classmates all went on to grade one in government schools.
Although Mwenya did go to grade one, it was recommended that he sit at the front of the class because his eyesight is poor. The government school claimed he was not ready and sent him back to Garden.
We were so happy to be able to make it possible for him to have a pair of glasses. The pure joy he and his family expressed was a memorable experience that even brought his classroom teacher to tears.
In working with Mwenya for the past two years, we know that he has a bright future. We hope to give many other children glasses so that they too can go forward in the years ahead.
— Amy Archibald