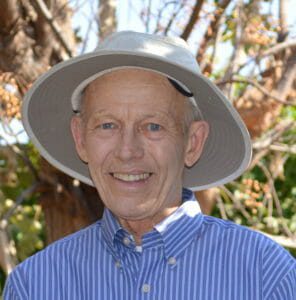 Richard Nelson "Dick" Bail Jr., 76, of West Newton, Massachusetts, passed away on May 29th, 2019, surrounded by family. He was born to parents Richard Nelson Bail Sr. and Vivian Gibbs Bail on October 28th, 1942 in Brockton, Massachusetts but spent many summers on his grandfather's farm in rural Pennsylvania.
Dick graduated from Whitman-Hanson High School and Bowdoin College, where he was a James Bowdoin Scholar and majored in Physics. Inspired by the physician-polymath Albert Schweitzer— and the civil rights movement of the late 1960s— he completed a medical degree at Harvard Medical School in 1969 and worked at the Centers for Disease Control in Michigan and Maryland for two years. After serving as Chief Resident at Boston City Hospital, he practiced internal medicine at Harvard Vanguard Healthcare (previously Harvard-Pilgrim Healthcare), Mt. Auburn Hospital, and Cambridge Hospital.
During a summer abroad in Germany, Dick became interested in conflict resolution and reconciliation. In the early 1980s, he joined Physicians for Social Responsibility and Physicians for Human Rights. In 1985, he co-founded Trust Through Health, a non-profit organization that led good-will missions to the Soviet Union during the height of the cold war. He worked with the Chief Epidemiologist from the USSR to develop a public health training program in Tanzania. He also worked on disaster relief efforts in Armenia. In 1987, he testified before Congress in support of the International Health Corps. His participation in such efforts— and Dick's belief that social and medical problems were deeply intertwined— inspired him to pursue a Master's degree from the Harvard School of Public Health from 1987-1989.
In 1991, Dick accepted a position with the World Health Organization as the Health Strategy Coordinator for the African Regional Office in Brazzaville, Congo, where he served until 1993 and supervised employees from 43 countries. He played a major role in the effort to address the HIV/AIDS crisis in sub-Saharan Africa by consulting with governments, the United Nations, and various non-profit organizations.
In 1993, Dick returned to his career in internal medicine in Watertown, Massachusetts where he served hundreds of patients in the Greater Boston Area. He also volunteered one morning a week at the Brockton Neighborhood Health Center, which serves underprivileged clients. In recognition of his skill and service, he received the Physician Practice Connections Recognition Award and was recognized by the National Committee for Quality Insurance (in Medicine). He was much more proud, however, of the close relationships he developed with his patients.
In 2000, Dick founded Communities Without Borders (CWB), a non-profit organization that serves underprivileged communities in sub-Saharan Africa, and Zambia in particular. CWB constructed two public health centers in Zambia, provided funding to more than 6,000 young people to complete secondary or post-secondary education, and Dick's legacy continues through its ongoing work.
One of his greatest pleasures was mentoring young physicians in the clinic, or as an adjunct faculty member at Harvard University and Boston University. He also produced ten peer-reviewed articles during this career (often via collaboration with his students), and received the Community Service Faculty Award from the Harvard School of Public Health to recognize his work with medical students in Africa.
Dick remained active in serving social justice causes within the Greater Boston area during the last decade of his life. He was a founding member of the Watertown Youth Coalition, a joint program between Harvard Vanguard Health Care and Watertown Public Schools to serve the complex health issues many underprivileged youths face in the area. He was the recipient of this organization's Community Service Award in 2018.
Because of his distinguished career and passion for public service, Dick was awarded the prestigious "Common Good" award from his alma mater in 2014. To further recognize his many contributions— and much to his embarrassment— the mayor of Newton Massachusetts, proclaimed April 28th, 2019, "Richard Bail Day."
In addition to public service and scholarship, Dick was an avid outdoorsman. He enjoyed hiking, biking, kayaking, cross-country skiing, camping, tennis, swimming, and long-distance running. His passion for the outdoors took him from the highest peaks in Europe and Africa to the American Rockies and Hawaii— and many other trails in between. He was particularly fond of exercising on crisp New England mornings with canine companions who were among the few living organisms that rivaled Dick's endless energy, and his enthusiasm for nature.
What set Dick apart from others was his inextinguishable belief in the potential for good in all people— even Yankees fans. He looked for value in every single human interaction. His altruism inspired others, and he worked tirelessly to connect with people across geopolitical, racial, and religious divisions— inviting dozens of refugees and students who were in need of housing to live in his house because of his undying faith in humanity. He learned German, French, Russian, and Swahili during this life; tutored young men in prison; and participated in civil disobedience on numerous occasions to confront injustice and all forms of discrimination. Many of these activities were arranged with friends from the First Unitarian Society of Newton.
Dick is survived by his beloved wife, Arlynne (Lawless) Bail, eldest daughter, Lisa Bail, sons Jeffrey Bail and Christopher Bail, sister Caroline Bail, eight grandchildren whom he absolutely adored (Mei Lee, Connor Lee, Amaia Bail, Jasper Bail, Zarina Bail, Cormac Bail, Charlie Bail, and Teddy Bail), three nieces and nephews (Jonah Jonathan, Geneva Jonathan, and Orelia Jonathan), son-in-law Wai Lee, daughters-in-law Kari Bail and Maureen Murphy, and brother-in-law Darius Jonathan. He was predeceased by his brother Fred Bail, whom he loved dearly.
The memorial service will be held on June 15th, 2019 at 2pm at the First Unitarian Universalist Society in West Newton Massachusetts. The family requests that visitors make donations to support his non-profit organization (Communities Without Borders), in lieu of sending flowers. Donations can be made via the following website: https://www.communitieswithoutborders.org/
Written by Chris Bail