by Lynn Perry
[After an overnight layover,] we left Dubai behind, the play land of international millionaires, with its opulence and excess, to fly to a country where most nationals are living in destitute poverty. As the doors opened on the capital city of Lusaka, we were met by warm, smiling faces and cries of "Madame, Sir, May I help you?" We had arrived in Zambia.
The ride to our guest quarters ran along potholed roads with people teeming by, in all manner of dress: business men, school children, women with children. Some were pushing large carts with coal, others were carrying produce on their heads, a few on bicycles. Despite heavy loads and long distances, they were smiling, talking, looking peaceful. The roads were lined by concrete walls, topped with barbed wire, metal spikes or broken glass, to dissuade entry to the upper-middle class homes we glimpsed through breaks in the walls. Advertisements for construction materials were prevalent: "A house without Harvey tiles is like a school without teachers: it may have no class."
We pulled into the Kaliyangile Guest House, which would be home for the next two weeks. Jessie Phiri, Field Operations Manager of CWB Zambia, received us warmly. She has been an important contact who has helped this NGO develop its relationships over the last 15 years.
I was scheduled to teach at 9:00 the next morning, so with a 22-hour flight behind me and jet-lagged from crossing six time-zones, I got to work organizing the materials I would need for my first lessons at the ZANCOB Community School in the Garden Compound. I had to be ready to meet the 45 smiling faces that would greet us. Ultimately, I would have charge of the "older" group: 15 six- and seven-year-olds, some of whom are within one year of being academically ready for "government school".
The children speak almost no English, yet they know enough to reach out their hands, calling "Teacher, Teacher" as we enter the three-room concrete-block school house. Twenty of the youngest children crowd into three tables in a tiny room with an unusable blackboard.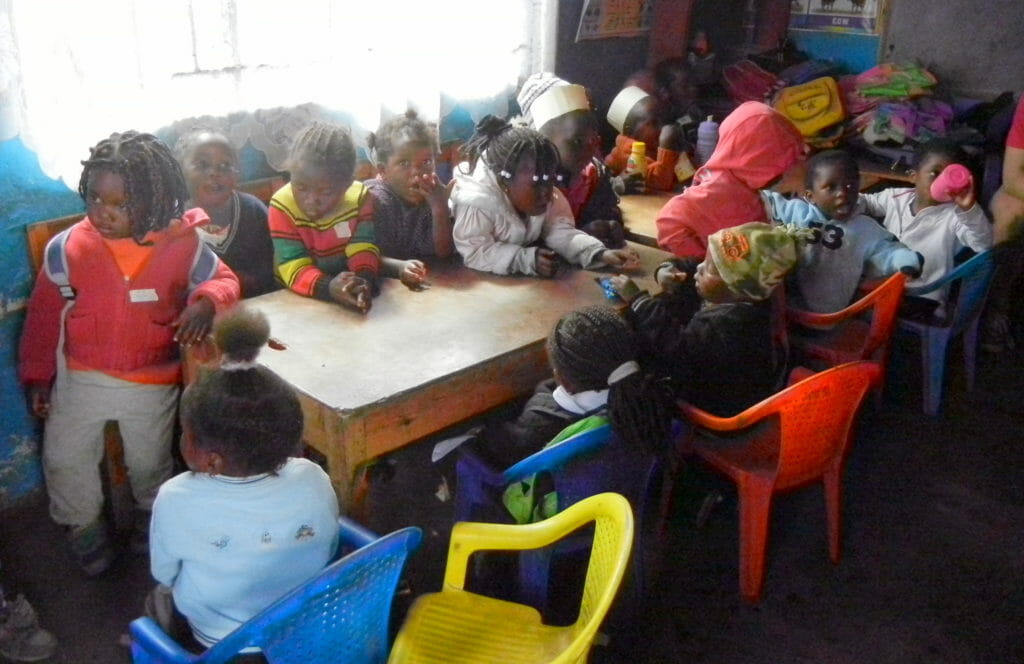 The older children have desks of their own. Each room has only one window to provide light by which to read. We jump into the lessons by modeling and singing the ABC song, and Head, Shoulders, Knees and Toes, to gain familiarity with each other.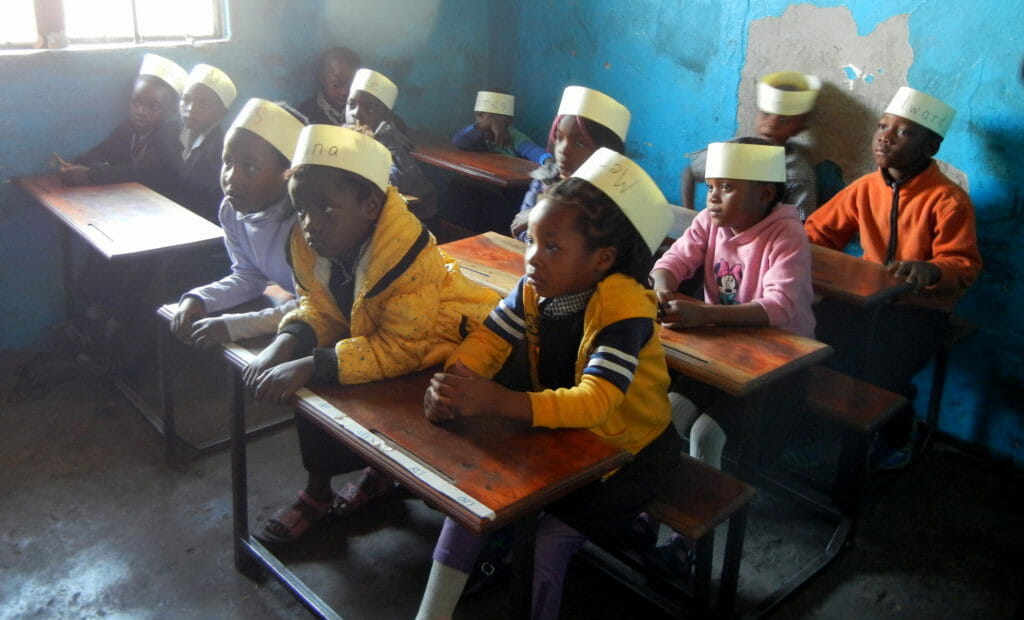 Books are passed out and it is clear that most of these children have no "book handling" skills. The CWB teenagers, acting as teaching assistants, show the students how to hold a book, look at the pictures, and turn and talk to their friends about the story.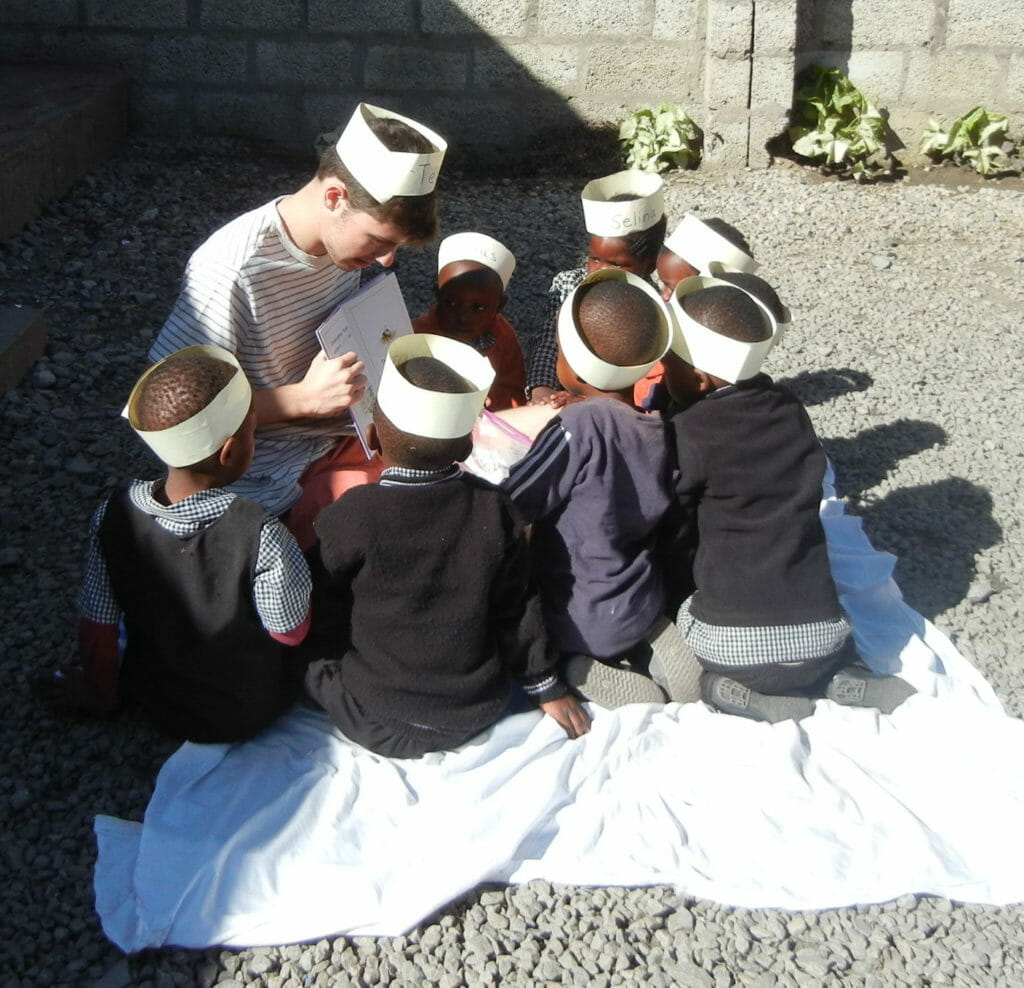 Math class reveals that the children know how to count by rote, but need practice with building numbers to understand addition, and later, subtraction.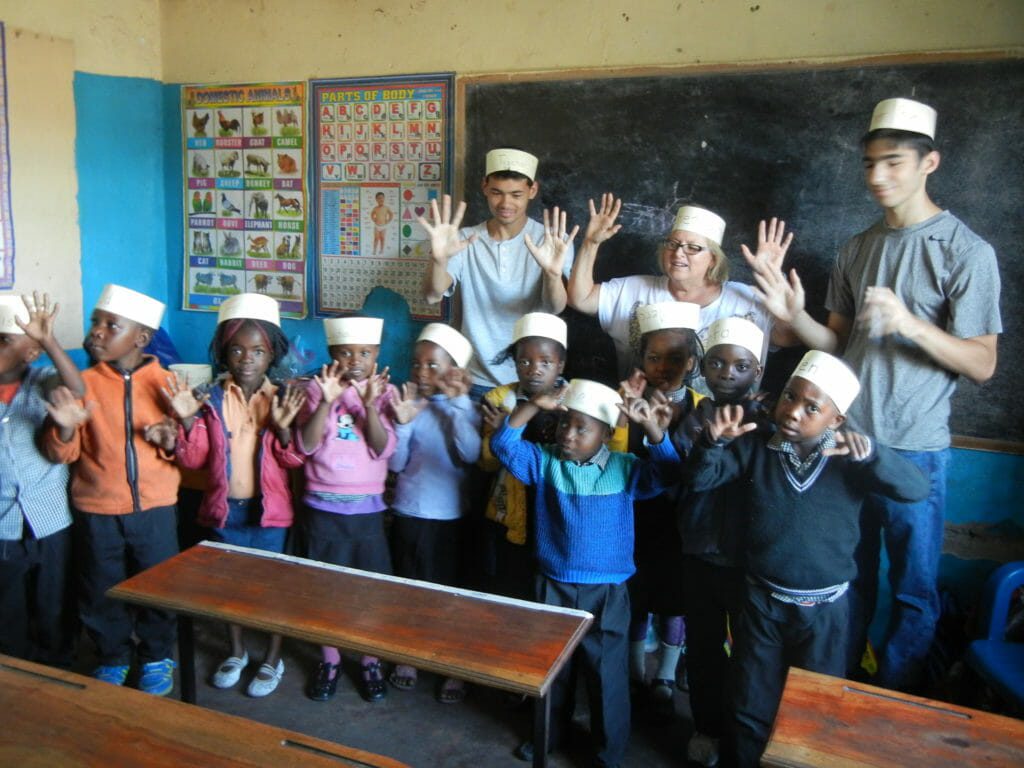 Recess is held outside in a rock and dirt covered courtyard. With no running water, the children use a squat toilet built into the corner and wash their hands under a pump. As toys are distributed for play time, the students shout with joy. Many of them have never had this opportunity.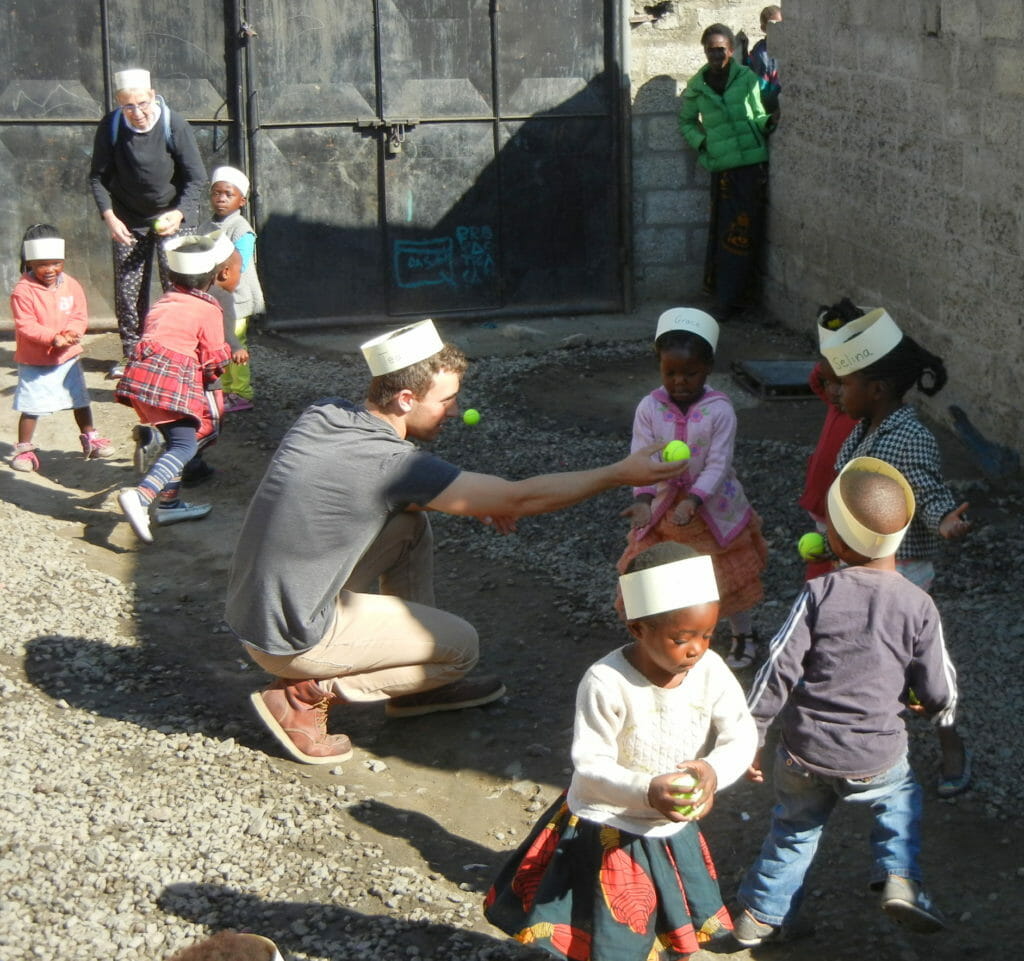 The children leave the structure and stability of the Garden School to walk through their community. The dirt roads are rutted, lined with small "markets" selling used clothes, household items, produce, dried fish, and fresh meat, most of which is covered with flies. We catch glimpses of homes further back on the side roads. They are simple, concrete buildings, many without windows or doors, with outdoor "kitchens" and community squat toilets. As we walked further into the compound, we discover the water treatment center that spews untreated water back into the streets of the community. Still, the people sweep their dirt floors and scrub their clothes on "old-fashioned" washboards. Though clean, the clothes they wear are ragged, and shoes are scarce.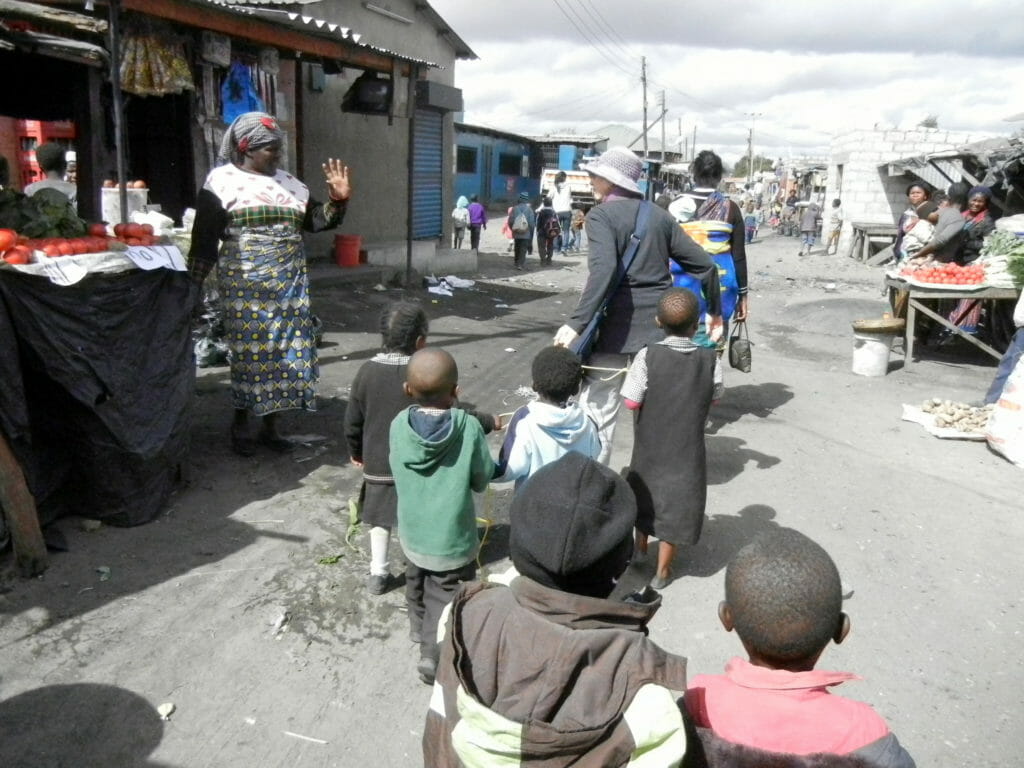 Sunday morning we are the guests of honor at a (four-hour-long) church service at United Church of Zambia, St. Bartholomew parish. Members from the multiple choir groups draw our members into their lots, encouraging them to sing and sway with the music. Two of our senior members of CWB, Dr. Richard Bail and Barney Freiberg-Dale, are led to the front where they sit in kingly chairs and look out at the sea of hundreds of people worshiping as one. I find it difficult to conceive that the congregation members, adorned in flowing dresses, suits and ties, are some of the very same people we see on the streets of the compounds, living without electricity, water or sewer. Near the end of the service, we have the honor of listening to Edith Nawakwi, one of the candidates [the first woman] for the upcoming presidential election. She is here for us!
We visit several orphanages, called Transit Homes, as they provide transitional services for their many children, at least in theory. Lusaka is teeming with street children, as young as age six, and there are younger children who have wandered away from home, gotten lost, and then placed in an orphanage, until or if, they are claimed by family. The adults who care for the children have committed their lives and financial resources; they work selflessly and with an abundance of love. Resources are scarce, though the children are fed three times a day, the premises are spotlessly clean, and everyone is well clothed with second hand articles donated by Western countries. I browse a bookshelf inside the orphanage and find a "Government Guide for Working with Street Children". I am surprised to read that children are not forcibly removed from the streets; rather, they are supported and counseled until they choose to enroll in a residential program (if offered). This seems counter-intuitive, until I think it through and realize that without a child's "buy in", they are likely to run back to the streets and will suffer further trauma from yet another "failed opportunity". It is all so heart breaking.
We take a three-day respite to travel 300 miles to Livingstone, first mapped by David Livingstone in 1853, and home to Mosi-oa-Tunya, "the smoke that thunders," aka Victoria Falls. On the way, we stop at the village of Simukanka, where we are greeted by throngs of children, and an adult community that is waiting to embrace us. CWB had earlier raised funds to build a medical clinic for the village, which encompasses hundreds of acres of small family farms and a government school. A goat is being cooked by the village women in fabulous huge, heavy cast iron pots over a wood-fueled fire in the fields.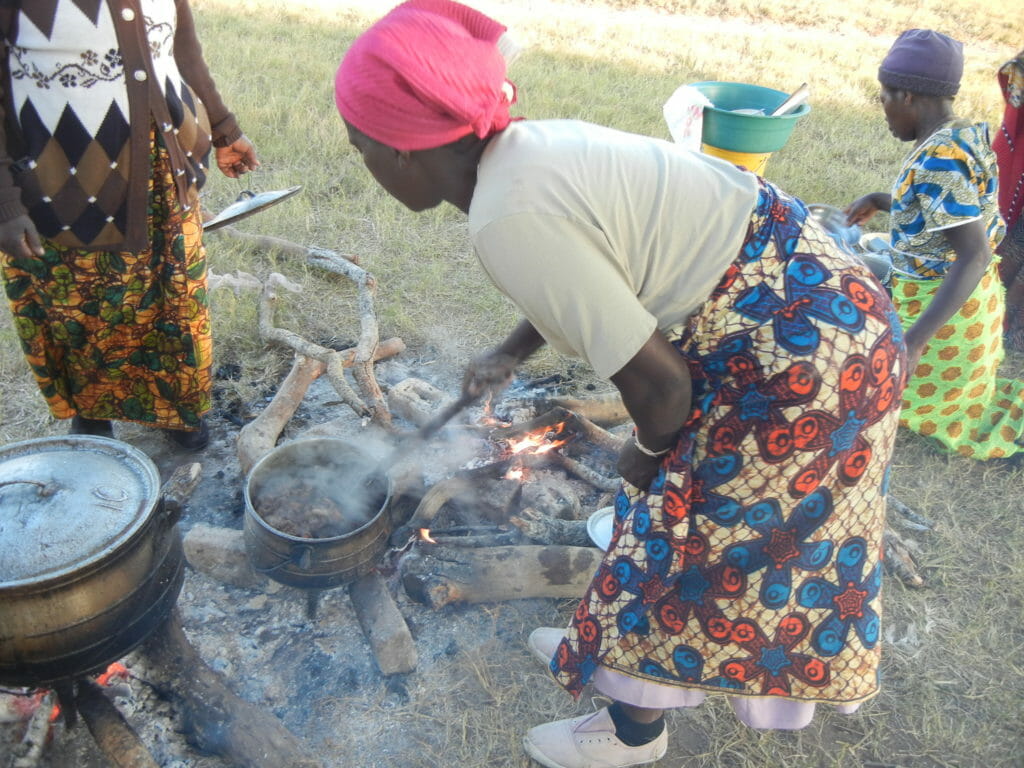 We tour the simple but efficient and clean clinic, led by the head nurse, Elinor Matonga, and her one assistant, Leena. At this time, one male patient lays under his mosquito netting, being tended by his father, a requirement across this country, as hospitals, clinics, and hospice facilities provide medical support and food, but can not assist patients in daily living requirements: eating meals, toileting, changing sheets.
As the sun sets, we experience the beauty of the African savannah and the brilliant colors for which it is known. The children are well-entertained by our teenage volunteers who organize a hearty game of American football.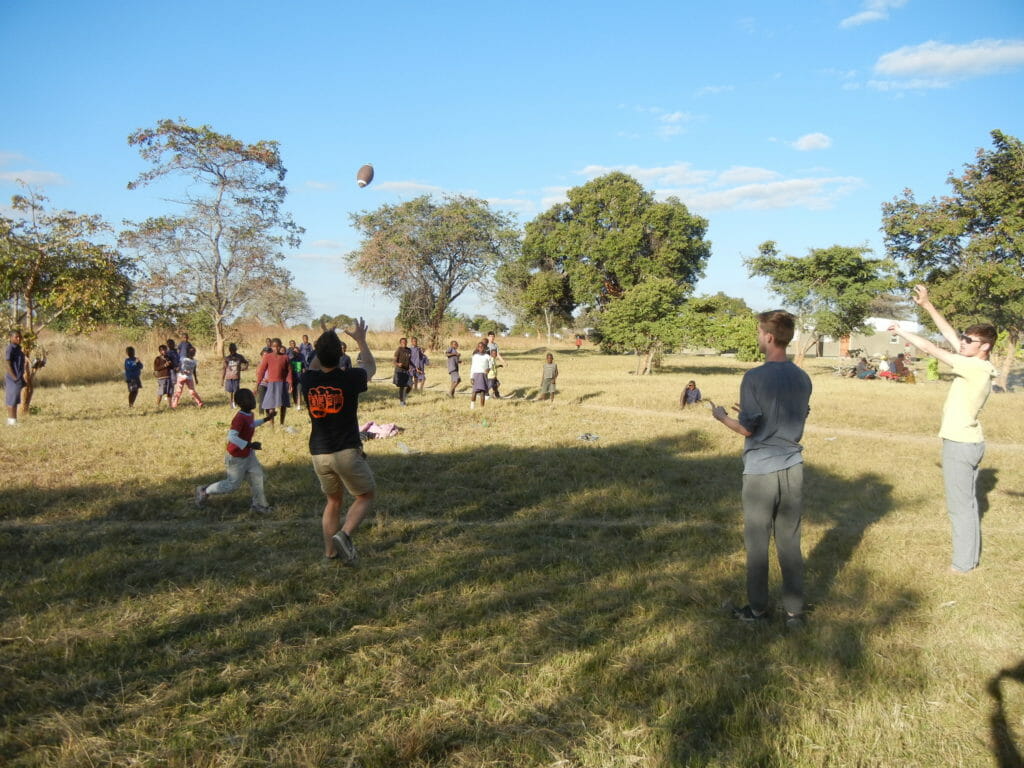 Villagers are literally coming out of the bush to join in this 100-person BBQ, served up around a blazing fire after nightfall. Meat is so scarce for these people, and a fresh goat, combined with multiple side dishes: nshima, vegetables, relishes, fruit and the opportunity to befriend Westerners is a huge draw. We eat Zambian-style, with our hands, despite most of the food being the consistency of stew: we scoop up the thick Zambian staple-food, nshima (made from maize or mealy meal), dip it into the goat stew and sides, to bring it dripping to our mouths.
In the pitch dark, a beautiful sound emits from the student choir group. Being led by an older student, they sing traditional songs, a cappella style, serenading us through the night. Even when we retire to sleep [on mattresses laid] on the concrete floor of the schoolhouse, the singers follow us with their rich, full voices, until they are told that the visitors need to sleep!
The two days spent in Livingstone give us an idea of vacationing in Zambia: Victoria Falls, safari, river boat cruise on the great Zambezi River, and craft markets.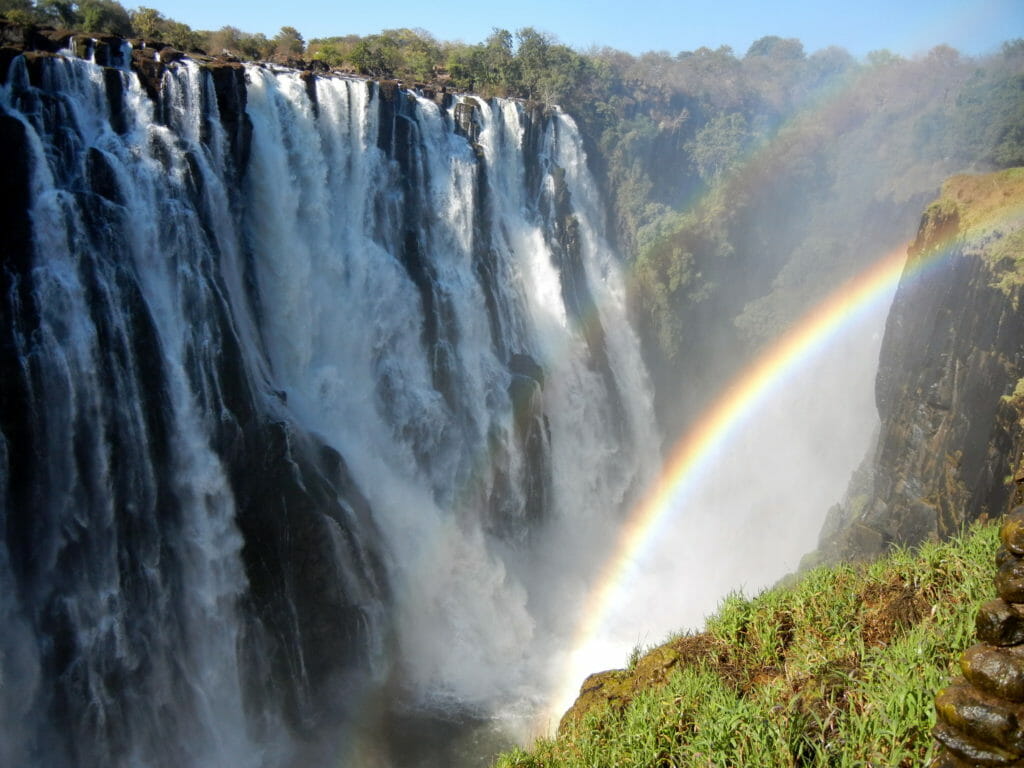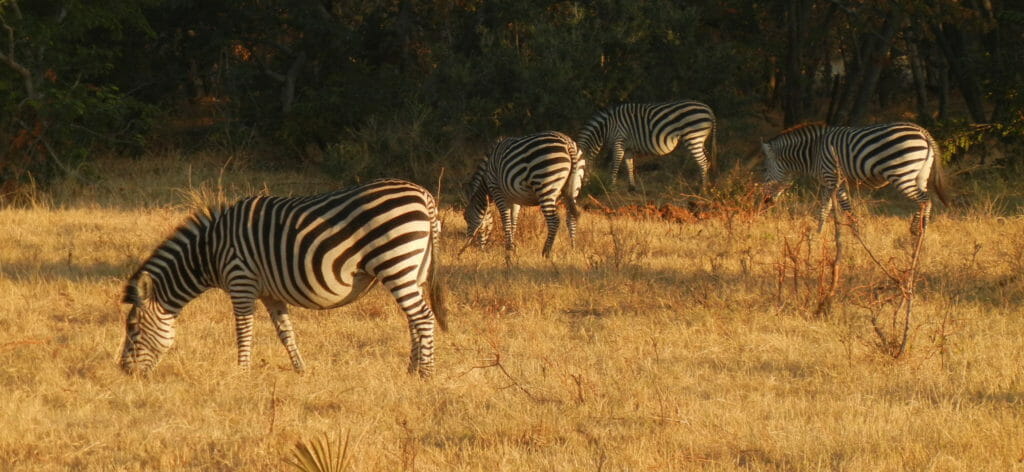 On our return trip to Lusaka, half the group splits off to join one of our guides, Stanley, to meet his young men's soccer team in his village. Like so many in this country who perform volunteer work to enrich the lives of the vulnerable and at-risk population, Stanley has formed a soccer league for men in their twenties, and is proud to show them off.

Back in Lusaka, we go to work at Living Hope, a very large community school and transit home for the most vulnerable children. Students are sent here by Zambia's version of DSS; they receive educational services and one meal each day (sometimes their only). Uniforms are not required, though some students who have access to school uniforms do wear them. The teachers are all impeccably dressed and well groomed. However, because they are paid only the smallest of stipends, most have a "paying" job on the side: seamstress work, small markets where goods are sold, or construction work. The transit home is shelter for 18 boys, who live here because they were unable to remain in their family homes. There is one boy who was sent here from Congo, and will remain until he graduates.
Teams get back to work during our final days: bookcase building, medical and vision screenings, distribution of supplies, and introduction of Days for Girls reusable menstrual kits, with the hope that the young ladies will attend school rather than missing a full week each month. Our librarian mentored the Living Hope librarian in cataloguing the hundreds of books we had transported, while our nurse returned to the St. Bartholomew church to attend a "Widow's group". It is remarkable how each person in our CWB group of 16 finds a special niche, and fulfills it with love, dedication and joy.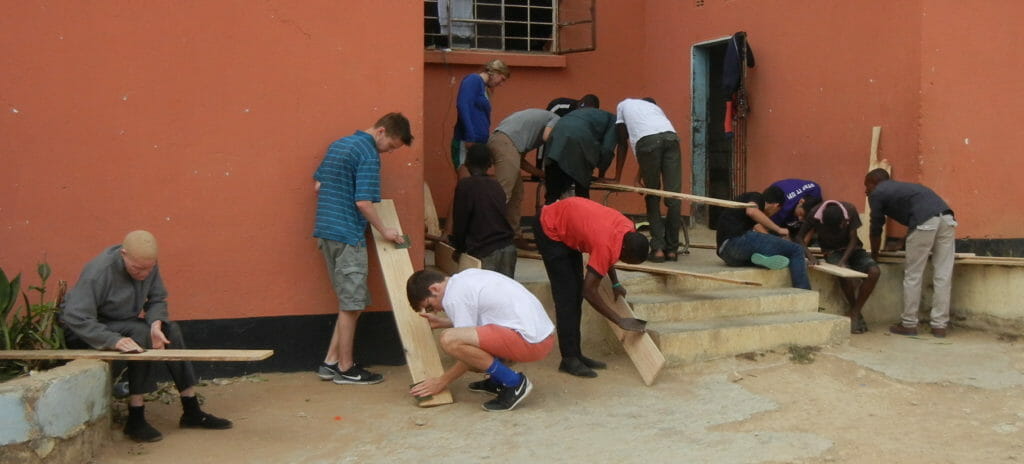 On our final day, CWB Zambia throws us a braai [rhymes with cry], a Zambian-style BBQ. They have pulled out all stops. There is meat of every kind, vegetables, potatoes, nshima, even desserts. I realize, at this point, why the food has felt so fulfilling. Vegetables are grown chemical-free and picked daily, not refrigerated. And the chicken, goat, and pork? Very likely killed and prepped that day or the day before. It is very fresh. Yet, I must remember that this is not the way it is for the other 99%.
As we drive past the impoverished compounds where we spent so much of our 14 days here, I make a silent promise to return, to bring a bit of respite to the Zambian people who provided us with an abundance of love, gratitude and joy these past two weeks.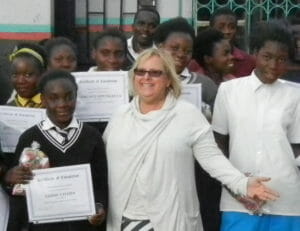 Lynn Perry traveled to Zambia with CWB in 2016. She describes herself: I am a special education teacher with close to 30 years in the field. I work with all-age students with learning diabilities (dyslexia, dyscalculia, ADD) and also specialize in the teaching of reading. I have been with the Lexington Public Schools for the past 15 years. Prior to that, I stayed home to raise my own children for 12 years, and had worked at the high school and middle school levels. I enjoy snow skiing, kayaking, ocean and lake swimming, hiking, reading and making connections with people. This was my first trip to Zambia, and I hope to return to do some more focused teaching.